Are your All-Hands Meetings feeling humdrum? There are several ways you can pump some life into them. I am a firm believer that these meetings can be informative and fun – thus, making staff want to attend and actually retain the information shared.
Before The Meeting
Lock your meeting dates/times down on calendars at the beginning of each year so staff have plenty of notice to protect these recurring meetings.
Be clear with your staff if these are mandatory or strongly encouraged. Provide login information to remote staff and set up technology to video record the meeting for those that cannot attend.
Plan your agenda (birthdays, anniversaries, kudos/shout outs, employee announcements like weddings/new babies, goal review, sales numbers, financial numbers, safety numbers, special guest presentations, training, announcements, wellness tips, etc. might be included) and who will be sharing each part in advance. Share the microphone and use a variety of speakers.
Getting staff all together is a great opportunity to recognize, appreciate, and thank them along with sharing important information with them.
Send your meeting agenda in advance when you remind staff the meeting is coming up. Include the regular updates you will cover (i.e. customer satisfaction, financials, safety) and anything new (i.e. annual benefits, a customer service training) so that staff can be prepared with questions.
Plan your theme, snacks, talking points, questions, celebrations, recognitions, handouts in advance. Avoid "winging-it" that day.
Set up early and test any equipment you will be using.
Leaders in your organization should arrive early to greet staff as they come in (or join in the call).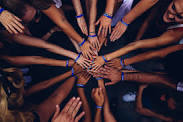 At The Meeting
Have music playing in the background that goes with the theme – no one likes to walk into a large silent room, especially if staff do not all know each other well.
Offer snacks that go with the theme (more on themes below). If your meeting is remote, tell your staff to prepare their favorite breakfast, snack, etc and feel free to enjoy during the meeting.
Kick off the meeting with something fun. If in person, consider a contest/game ("Minute to Win It" style games are fun) and give out prizes for participation. If remote, try trivia and use polling style questions for folks to buzz in.
"A picture is worth a thousand words," so use lots of pictures/visuals in your presentations to engage your staff. Visuals also help with learning and memorization of new information.
Open up the floor (or call) for staff questions. Don't shy away from the tough ones; answer in a manner that is clear, kind and direct. If you cannot answer the question, tell them you will get with them and then really get back to the staff in a post-meeting recap. Be vulnerable and real with your staff; they will respect you for it and they will understand if you do not word something perfectly.
Some employers request questions in advance via Survey Monkey or an anonymous platform and then provide canned answers during this meeting. I am not a fan of this method. Of course, if things start to go off the rails, redirect the person to their supervisor to be discussed offline.
Reiterate your open door policies and/or advise that you will be available after the meeting to chat further with staff.
Leaders should stay until the end and be available and present for staff to ask one-on-one questions that they did not feel comfortable asking in a large setting (or follow up with team members via normal one-on-one calls).
Thank your staff for all their hard work and be specific on what they have accomplished as an organization since the last all-hands meeting.
It can also be fun to raffle something off at the end of a meeting to help keep them present and engaged the whole time. Provide something that fits the theme or has wide appeal (gift cards, PTO, electronics).
After The Meeting:
Make the video recording available on an intranet/shared drive space.
Or send a recap email to everyone about topics covered.
If questions were not answered, get the answers and add those to the recap email. Close the loop. Make sure your staff know you are dependable and follow through.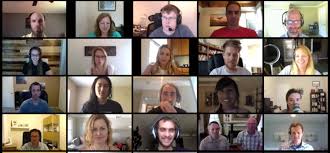 Themes – My Favorite Part!
Think seasons, non-denominational holidays, national observances calendar, or special weeks in your industry (safety week, nurses week, etc.)
Pick your colors/design and use it with the email reminder, in the presentation slides/materials, in the balloons or other decor, with the plates/napkins. If you are remote, encourage staff to pick a themed virtual background or create their own for the video call. Vote on the top three most creative or hilarious.
Food is always a great addition (ex: a summer theme might include popsicles, watermelon slices, ice cream sundaes). If you are remote, share a recipe with everyone in advance that you can make together.
Prizes (ex: a summer theme and you give away a plastic basket full of sand toys, beach towels, sunscreen, a cooler, etc.), tickets to a local water park, or a gift card that can be emailed.
Select music for before or after that supports the theme (ex: for summer theme use the Beach Boys or luau themed party music).
If your team is remote, have everyone dress up in their favorite themed outfit (ex: for summer theme wear red/white/blue or Hawaiian prints). Mail out prizes/gift cards for best outfits or give them bragging rights.
These are just a few of my suggestions and I would love to talk with you more on these! Let me know how you jazz up an All-Hands Meeting in the comments below!