With the majority of teams moving to remote work quickly and a bit haphazardly, I wanted to share a few things I've found through research and tried with colleagues to increase morale in this new virtual environment. Before diving into the tips, it is important to recognize low morale in the team environment.
Identifying Low Morale in the Virtual Environment
Stress, anxiety, depression and more can contribute to lowering employee morale and lead to disengagement from work they previously loved and excelled
Affected employees may show a dip in quality and/or quantity of work, provide substandard customer service, be short-tempered or scattered with colleagues, be slower in response times, be less accurate, more accident prone at home, and more susceptible to fraudulent email/text requests
And they may not show any signs that are visible through calls, video conferencing, emails or instant messaging forums (one on one calls will be most important here)
Providing Assistance to Struggling
Be clear in your communications with them on any adjusted hours/days/goals/new communication channels
Remind them of your EAP services and provide contact information
Provide Department of Economic Security information for your state(s) to employees so they and/or their family members can access additional benefits/resources
Be vulnerable and share how you are doing (really doing) so they feel comfortable sharing with you how they are doing
Talk to team members…often. Both team meetings and one-on-ones are essential and needed more frequently. These can be through phone calls, video conferencing, text, Slack, etc. The important piece is to touch base with each of your staff on a regular basis whether that's daily, every other day or at the most, weekly.
Building Team Spirit & Morale
Allow employees to skip the video portion of a conference call if it feels like too much pressure to be "camera-ready" with a house full of screaming kids or the employee is private about their home space
Have makeup-free Monday meetings and/or Pajama-themed meetings; relax your dress codes for right now
Open phone and video conferences at least 15 minutes early so employees can "chat before the meeting" like they used to and get caught with each other
Ask a fast temperature check with everyone at the start of each meeting. Go around a circle and have employees put their thumbs up if they're good, down if they're struggling, flat palm if they're feeling "meh". Employees could also choose a color – red being super happy and healthy and work through the spectrum to Eeyore-style purple. Or do Fist-to-Five – holding five fingers up is great and then go down from there with a closed fist signifying the struggle is real that day.
If time permits, ask a fun check in question (might as well learn more about each other) like: Where is your favorite place to travel? What was your favorite vacation? What is your favorite dessert and why? Who inspires you? What is your favorite quote? What are you reading right now?
Have themed weekly meetings and share a photo of something from home: children, pets, flowers, plants, artwork, projects you're working on, etc. (bonus: you can vote on favorites in your chat boxes); have a contest for best Zoom background
If a meeting falls during normal breakfast, lunch or happy hour times, encourage employees to order their food from local restaurants to help them out (bonus if you can put a food credit in your employees' next checks)
If a team hits a major milestone deliverable early, send them a gift card in the mail (Anyone else hitting their local home improvement store each weekend like me? Plus, Home Depot and Lowe's have toilet paper and cleaning supplies…)
Share addresses and mail cards to each other, everyone loves snail mail and to know that someone is thinking of them
Start a Google Doc or shared resource list and encourage everyone to contribute their favorite COVID-19 Survival Resources like: healthy recipes, free online workouts, yoga/mediation sites, books about resilience, activity and learning sites for kids, activities to relax, etc.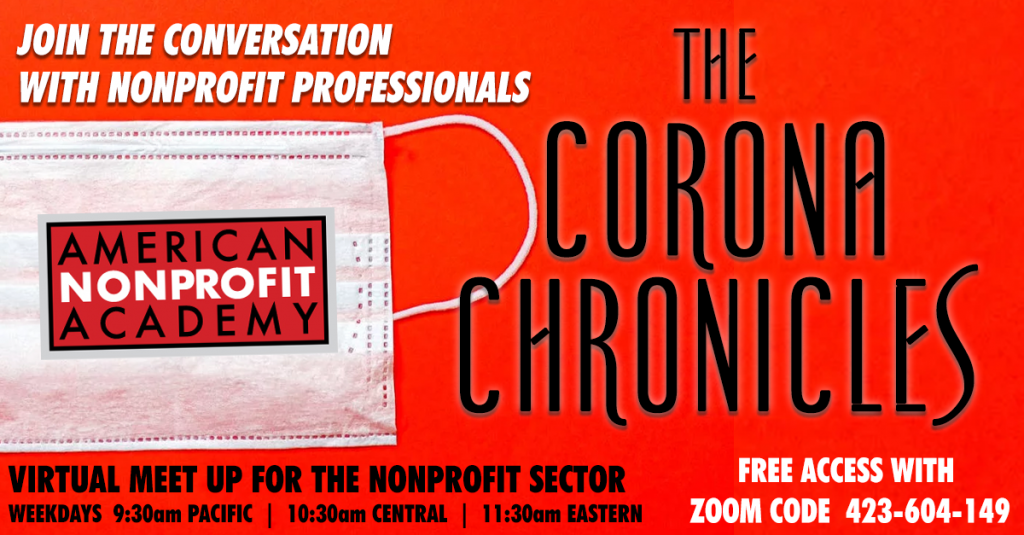 For a 30 minute video interview on these ideas, feel free to click here and watch Episode 8 – Dealing With Low Morale.
Your Turn!
What are you doing for your teams to increase morale while you work virtually? I would love to hear your successes. Leave me a comment below!