The short answer: absolutely. In fact, I would go so far as to say you should bring a few notes. This shows preparation to those that are conducting the interview!
I am a fan of bringing an old school padfolio to every interview I do whether it is for a new job, a new client, a new leadership program I'm applying for, etc. In it, I can stash fresh copies of my resume/cover letter/bio, have quick access to the bullet points I've pre-written and want to be sure to share with the interviewers about my skills, I have a few questions pre-written down that I want to ask the interviewers (because you know they are going to ask you at the end if you have any questions for them, right?), and I have an organized place to put their business cards they give me (so I can write a quick thank you email later).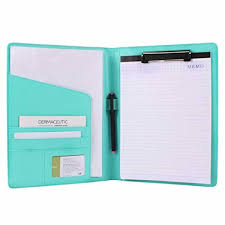 Bringing in notes shows several character traits that they may prize in an employee – planning, preparation, intentionality, researching skills (about the company or competitors) and supports your energetic case that you will indeed make a great addition to their team. 
What is your "have to bring" item to an interview? Let me know in the comments below!