Are your virtual team meetings in a rut of listening while everyone reports out? What if you could bring purpose, collaboration, and energy back into team meetings? Take a time-out from the same old Zoom meeting to use something new to ideate, brainstorm, retro review, reprioritize work flows and more!
Online Collaborative Whiteboard Platforms
I have recently become a fan of two new online platforms – Miro and Mural. Both have free versions with lots of whistles, unlimited amounts of people that can join, and easy to use learn and use tools. You may never go back to a regular white board again!
I love that both also offer:
Beautiful templates that you can use to get you started and then customize to your needs (size, colors, number of rows/columns/maps)
Sticky notes that you can create anywhere, group together, move together
Both have east to learn short cuts
The ease of exporting the whiteboard notes – no more need for someone to "scribe" the notes after a session into another format (!!!)
Both have amazing staff that want to improve their product every day and make it work for users
Both have online communities and tons of YouTube videos to learn more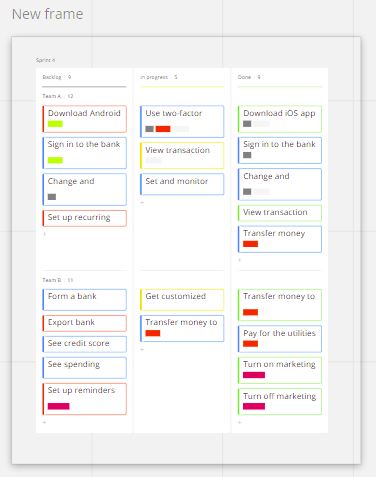 Pros/Cons of Miro
Miro uses "frames" to organize work and that lends itself to a more polished final look.
Miro has a great presentation setting.
Miro is constantly improving and pushing out updates.
Miro integrates with a ton of external apps like MS Teams, Google Drive, Slack, and ton more that I have no idea what they are lol!
Miro does not have the strongest controls yet to bring your group back to where the meeting leader/facilitator wants participants to be.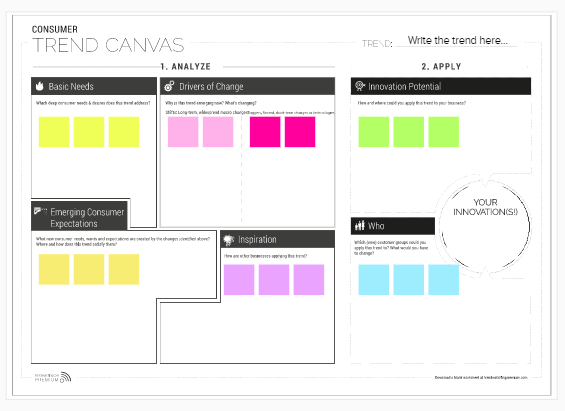 Mural Consumer Trend Template
Pros/Cons of Mural
Mural has much better participant controls with a "summon everyone" command.
Mural is easier to use to start with and has less commands (for now).
Voting and timer options are provided in the free version of Mural.
Mural does not look as polished and ready to present.

Summary
I think that Miro is better for groups that might be presenting and Mural is better for facilitators/consultants. However, both tools are constantly being improved and will probably have the same functionality soon. Choose what appeals to you and your team.
Need Help?
I'm happy to give tutorials! I never want my clients to have a boring online meeting again! If you try one or both of these, let me know what you think in the comments below!